Booking.com7.6
Expedia.nl7.8
TripAdvisor.nl8.0
Zoover.nl8.4
Google8.0
Holidaycheck7.3
totalReviews4,031.0
Located in Helmond, nearby Eindhoven
Welcome to Fletcher Wellness-Hotel Helmond. This hotel is located in the relatively unknown but very cozy, historical city Helmond in the province Noord-Brabant, nearby Eindhoven. The hotel includes BLUE Wellnessresort Helmond, Restaurant Grill Factory op Suyt and ten bowling alleys. For nature lovers the area is great to explore by bike or foot.
Beautiful hotel located in Helmond
Luxurious BLUE Wellnessresort Helmond
Ten bowling alleys
Culinary Restaurant Grill Factory op Suyt
Five multi-functional conference rooms
Can be combined with a day trip to Toverland
Versatile facilities
Fletcher Wellness-Hotel Helmond will provide you with a calm atmosphere and luxurious facilities for the whole family. Completely relax and unwind in the BLUE Wellnessresort Helmond or go bowling, anything is possible. Furthermore, the hotel has five multi-functional conference rooms and a boardroom.
You can also enjoy the delicious dishes in the culinary Restaurant Grill Factory op Suyt, which also has an extensive kid's menu. For a quick lunch, drink and/or bite you can join us in the bar.
Green environment
Fletcher Wellness-Hotel Helmond is located near the nature reserve De Peel, which is the ideal location to cycle or hike. The cycle network of De Peel consists of 600 kilometers of routes! 'Rondje Helmond' is one of the most famous routes: 45 kilometers through forests, residential areas and meadows. Naturally it is also possible to make and follow your own route or explore the surroundings.
Are you a culture lover? Then we recommend visiting the typical cube houses of Kasteel Helmond.
Day out with an overnight stay
Combine your overnight stay with a visit to amusement park Toverland. You can find the tickets including an overnight stay on the packages page.
Our team warmly welcomes you!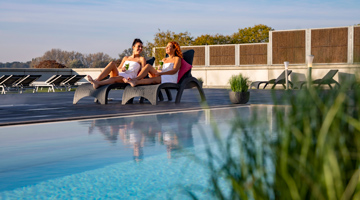 BLUE Wellnessresort Helmond
Fletcher Wellness-Hotel Helmond has a luxurious BLUE Wellnessresort Helmond with many sauna's, indoor swimming pool, roof terrace with cooling down zone, hammam, pouring ceremonies and much more.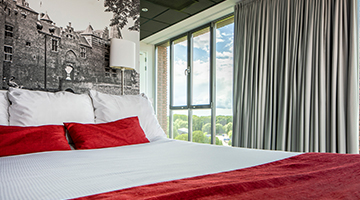 Photos and videos
Get inspired by the photos and videos of the hotel and its surroundings. Browse through the photo's and videos.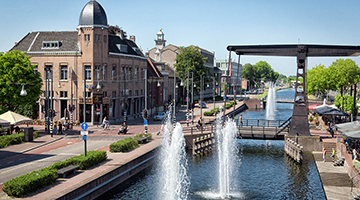 Discover the surroundings
The surroundings of the hotel are perfect for walking and cycling. Nearby Helmond you can find nature reserve De Peel. The cycling routes of De Peel are in total 600 kilometers long. 'Rondje Helmond' is the most famous route: 45 kilometers through woods, residential area and pastures. Of course you can also outline your own route.